It is here! Well, it isn't here with me…. yet. So, here are KittyCalash's thoughts on the arrival of Susan Greene's book we've been waiting for Wearable Prints, 1760-1860.
Remember, the Greene collection is now housed at the Genesee Country Village in Mumford, NY.

Hmmm….. Now, I'm picturing a "Greene" Swap for the Fall. Wouldn't it be fun to find fabrics similar to those Susan talks about?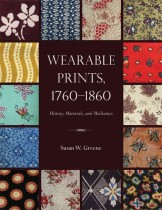 This just in, literally, from the mail carrier: Susan W. Greene's long-awaited book,Wearable Prints, 1760-1860. It's discounted (and out of stock) at Amazon, but should be shipping soon, since I have one right here on my desk.
It's fair to call this book lavishly illustrated (1600 full-color images in almost 600 pages), and while I have access to a copy at work, I am seriously thinking of buying my own copy, based solely on about 10 minutes skimming the book. There are images not just of fabric samples but also of garments, paper dolls and illustrations that help put the fabrics into context. Images of garments from collections I can't get into? Delicious! Information to help me understand how to use a printed cotton? Even better.
The book is organized in three main sections: Overview, Colors, and Mechanics. Appendices include timelines, prohibitions, price comparisons, print characteristics, and more…
View original post 186 more words